How to Choose a Gravel Driveway to Suit Your Home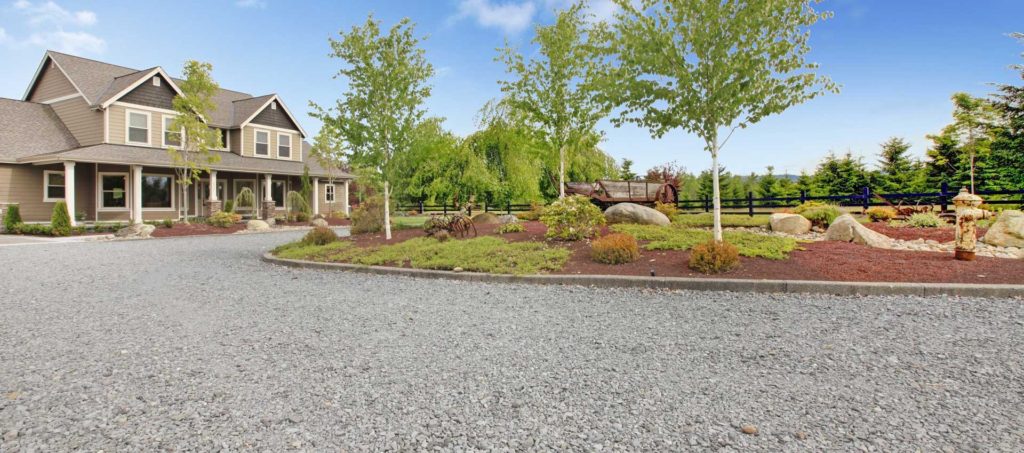 When you think of a gravel driveway, what comes to mind?
If you're thinking of a weedy, dull grey driveway leading up to a tumbledown house, think again. Modern gravel driveways are smart, slick and very easy to personalise. You can match them to your own tastes, the style of your home and your needs. Whether your home is a weatherboard cottage or a glass and steel new-build, there'll be a type of gravel that will work with it.
Types of gravel
Gravel for driveways comes in a wide variety of colours and textures. The gravel used on driveways needs to be hardwearing, able to stand up to being regularly driven over, and bed in well without moving around.
Driveway gravel is usually machine crushed stone, which is angular, locking together easily once laid. Rounder stones, such as those dredged from rivers, are not usually used for driveways as they won't lock together in this way. In the same vein, gravel used on paths and as decoration in gardens is often not hardwearing enough for drives. If you use a professional contractor to install your driveway, they'll be able to advise you on the types of gravel that will work and help you choose one that's suitable.
What will suit your home?
Gravel comes in a variety of colours and styles, so you can choose the option that works best for you and fits the style and look of your home. Or, if you're doing a complete home makeover, you could decide to choose your gravel first and fit the rest of the makeover to suit the gravel.
Limestone gravel is light grey and gives a sleek, modern look. It's great for new, urban homes and can be good for large drives, as the light colour means it never feels oppressive.
Granite is dark grey and has a powerful appearance. Like limestone, it can be good for those who favour a modern, urban look. It can also work well with older-style homes, often creating an imposing feel.
If you're after a more homespun, softer appearance, then golden coloured gravel will work well for you. It comes in a variety of shades, and offers a simple, classic look.
And if you want something completely different, look for unusually coloured gravels. Rock comes in a surprising variety of shades, even green or red.
Laying, edging and shaping
As well as choosing the right kind of gravel, you should also think about the shape of your driveway. If you have some space to play with, don't be afraid to think about something a little different. Introducing a curve can create a whole new look, and can help you integrate the driveway with paths and beds.
It's also wise to think about how you will use your drive. One of the problems with gravel is that it isn't friendly to wheelchairs, kids' bike wheels, or bare feet. If any of these might be a problem, think about laying stone paths across the gravel, so wheels can't get caught and little feet won't hurt.
Finally, decide how you want to edge your gravel. All gravel driveways need an edging of some kind to prevent the gravel spilling off the drive. Bricks or stones could be matched to the colour of the gravel, or contrasted for a bolder look.
Call now!
We service most suburbs of Melbourne. Give us a call and we can either provide a rough quote over the phone, or come to you and provide a free on-site quote.
Speak to Chris directly on 0477 723 793.